Get peace of mind with our Backfill Eliminator®
The Only Pools to Offer Solid Footing And Easier Installation For Fiberglass Pools With Tanning Ledges.
The Backfill Eliminator is one of the most innovative products in the fiberglass pool industry and works to secure your investment.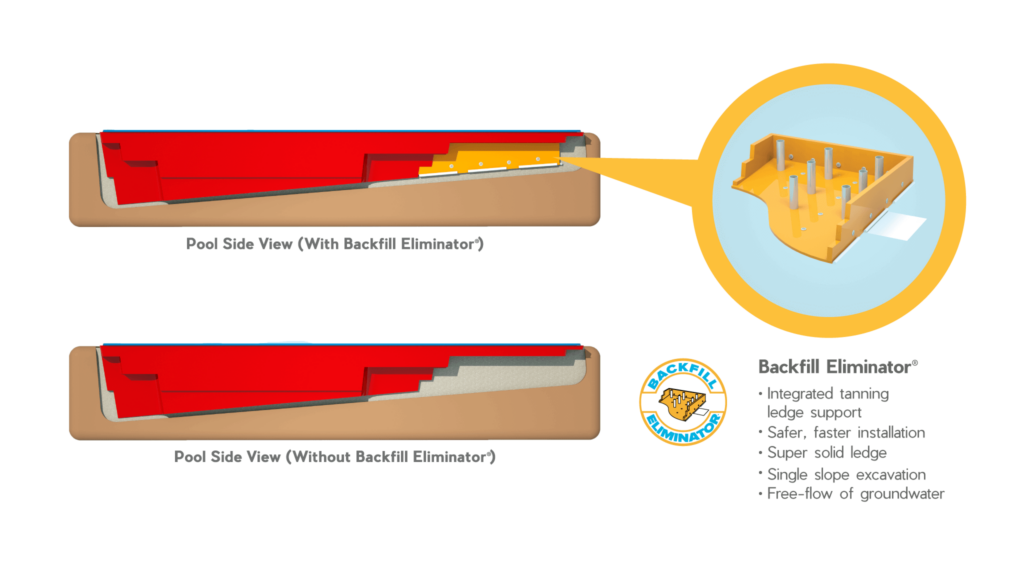 Our mission is to help homeowners like you enjoy your pool and make a lifetime of memories with family and friends.
Proper support for built-in tanning-ledges has been a major challenge. If not installed properly, the tanning ledge can feel hollow to your step. This can be due in part to the backfill shifting and settling which creates a void. Our patented Backfill Eliminator® (US Patent 10,450, 766), solves this problem.
What is the Backfill Eliminator®?
It's a specially fabricated structure integrated into the bottom of the pool to which:
Allows sturdy and level installation.
Permits free flow of groundwater, eliminating the possibility of stagnant water accumulating under the pool or excess groundwater lifting the pool.
Features an access point from which pool installers can easily reach plumbing and wiring.
The Backfill Eliminator® works in tandem with the patented Geo-Anchor Pool Wall®, which consists of built-in extensions that allow fiberglass pools to be anchored to the earth during installation. It's a composite structure that has an extra-thick honeycomb core and numerous support pillars.
The structure is added during the manufacturing process and encases the tanning ledge on the pool's underside. The Backfill Eliminator® provides lifetime structural support to the tanning ledge and one continuous slope for excavation, making it as easy to install as a fiberglass pool without a tanning ledge.
Please note: the Backfill Eliminator is an option on our fiberglass pool designs with tanning ledges; however, it does not come standard on any of them.